About Us
We are Podiatrists/Chiropodists with over 20 years experience and are members of the Health Professions Council, (HPC). The HPC is a regulatory body for health professionals. We keep our skills and knowledge up to date by regularly attending conferences and courses.
Most medical insurance companies, including BUPA, Prudential, Medicash and HSA will cover podiatry (chiropody) treatment, but please confirm this with your provider prior to treatment.

Mark Brennan, D.Pod.M, M.Ch.S., HPC Reg.
STATE REGISTERED PODIATRIST / CHIROPODIST




Mark qualified from West Yorkshire University, Huddersfield School of Podiatry and Chiropody in 1988.
Mark was very proud to open 'Mark Brennan Chiropody' private practice in October 1988 in his home village of Moreton, originally in Ashton House, Chadwick St, before moving to the present location at 29 Upton Road, Moreton in 1992.
Initially Mark also enjoyed working sessions for Wirral Community Podiatry Service covering the NHS clinics across the Wirral for six years, working regularly at Heswall, Eastham, West Kirby and Mill Lane Wallasey clinics. During this time Mark was the Secretary for the Merseyside branch of The Society of Podiatrists and Chiropodists, organising monthly meetings, guest speakers and local conferences for the branch members.

In 1995 Mark was invited to work as the Advanced Specialist Podiatrist in Diabetes by Consultant Endocrinologists Dr Ian R Jones and Professor David Bowen-Jones at Arrowe Park's Wirral Teaching Hospital Foundation Trusts' Out-Patient Diabetic Clinic. Having worked in the Diabetic Foot Ulcer Clinic for over 15 years, Mark is now recognised as the Clinical Specialist in the care of Diabetic foot complications and continues to work as part of the Multidisciplinary Diabetic Care Team providing a high standard of highly specialised diabetic clinic foot care for complex and high risk diabetic patients.
Part of Mark's role in the hospital has allowed him to lecture on the Management of Diabetic Foot at national and local conferences to other health professionals as well as talks for the British Diabetic Association and for patient groups.
Mark has represented the hospital at Wirral Diabetes Advisory Group and is an active member of the Arrowe Park Hospital Diabetes Foot Group helping to improve services for patients with Diabetes living in the Wirral area. Mark played a major role in setting up the Annual Diabetic Foot Screening Progamme, presently enjoyed by Wirral's diabetic population.
Mark is extremely proud of the reputation his private podiatry practice has gained for being one of the best and most professional clinics in the area. Patients travel from far and wide to enjoy the services provided at the clinic. Mark enjoys nothing more than listening to the patients' comments about the pleasure of the experience they receive when gaining the right treatment at the clinic.
In 2007 the practice opened its doors to other Complementary Health Professionals. We offer a wide range of treatments available covering various complementary health therapies. This has now become established as one of Wirral's most inviting complementary health clinic offering the ultimate in holistic care to our patients.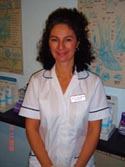 Julie Brennan, D.Pod.M., M.Ch.S., HPC Reg.
STATE REGISTERED PODIATRIST / CHIROPODIST



Julie qualified from West Yorkshire University, Huddersfield School of Podiatry and Chiropody in 1988 winning the Smith and Nephew Chiromed Thorn Boy Award for the Highest Aggregate Marks over the three year course.
Julie worked full-time for five years in the National Health Service, first in Bradford and then in St. Helens and Knowsley. During her time at St. Helens she specialised in both Diabetic Foot Care at Whiston Hospital and Foot Health Promotion for the whole Community Podiatry Department; gaining a certificate in Health Promotion from Liverpool University.
Returning to work after having four children, she joined her husband Mark in his thriving private practice of over 20 years in Moreton. In 2001 Julie took over the Staff Podiatry clinics at Arrowe Park Hospital and Clatterbridge Hospital, providing a comprehensive Podiatry service for all the staff working within Wirral Teaching Hospital Trust.
In 2005, having built up an extensive domicillary home visiting podiatry service, Julie opened a chiropody service at the Osteopathy and Natural Health Clinic in Grange Road, West Kirby. More recently in 2007, Julie extended her podiatry services to include working at Willaston Physiotherapy and Sports Injury Clinic, 57 Hooton Road, Willaston, South Wirral.
Julie enjoys treating general foot health problems and Diabetic Foot Care in both clinic and domicillary environments and is happy to perform Annual Diabetic Foot Checks for her patients with Diabetes.